Oncologists in Panama City, Florida
In partnership with Sarah Cannon Cancer Institute, Gulf Coast Regional Medical Center's oncologists, cancer specialists and clinicians deliver a range of oncology services. We offer diagnostic testing, surgery, radiation oncology and other non-invasive treatment options for a full spectrum of cancer types. Our goal is to provide our patients in Bay County the best opportunities for maintaining a high quality of life throughout their cancer journey.
To learn more about our oncology services, please call our oncology nurse navigator at (850) 747-7730.
Recognition
---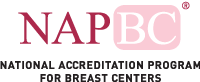 ---
Gulf Coast Regional Medical Center is accredited by the American College of Surgeons' Commission on Cancer (CoC), and we are accredited in radiation oncology by the American College of Radiology (ACR). Additionally, our breast program is accredited by the American College of Surgeons' National Accreditation Program for Breast Centers, and we are the first facility in Bay County designated as a Breast Imaging Center of Excellence by the ACR. We are also the only Bay County-area hospital to have earned the Jean Byers Award for Excellence in Cancer Registration.
Our approach to cancer care
The cancer program of Gulf Coast Regional Medical Center is dedicated to helping patients accomplish one goal—beat cancer. Our program is growing, and we believe that is a result of three central components of how we deliver care:
We invest in state-of-the-art technology.
Our physicians are expert, experienced and dedicated.
Our staff are caring, committed and driven to give patients all the support they need.
The combination of these central components translates into help, hope and healing. We help our patients beat cancer by providing them with advanced, state-of-the-art care. To do that, we work with providers who are passionate about their patients and their work and use a comprehensive approach. We've also created a setting that is a source of support and are committed to supporting community organizations devoted to patients with cancer.
Comprehensive oncology program close to home
Delivering high quality cancer care truly requires a comprehensive team approach. We have a multidisciplinary oncology team that includes physicians from many specialties, including:
Diagnostic imaging
Gynecology
Medical, radiation and surgical oncology
Pathology
Pulmonology
Urology
Our team is dedicated to cancer prevention, early detection, timely diagnosis, optimal treatment, rehabilitation and support. Physicians are involved in clinical trials in affiliation with the Sarah Cannon Research Institute. Because of this, our patients have access to numerous clinical trials.
Nurse navigator services
Gulf Coast Regional Medical Center's nurse navigators are patient educators and advocates, care coordinators, system navigators and community ambassadors on a mission to improve the care experience for each patient.
Our oncology nurse navigation services are a tremendous resource to our patients. After a cancer diagnosis, the oncology nurse navigator will quickly start the process of making appointments. This removes a lot of the stress and anxiety many patients experience.
Meet our nurse navigator
Kay Hankins, RN | Oncology & Women's Health
Kay Hankins, RN, works with radiologists/women's imaging specialists, pathologists, surgeons, oncologists, OB/GYNs and other specialists to meet new patients diagnosed with cancer and women's health conditions.
Kay supports you and your family at a critical time—after diagnosis and through treatment—and serves as a "gateway" to our resources and services.
As your nurse navigator, she will:
Navigate you through the diagnostic evaluation
Educate and support you, empowering you to make informed treatment decisions
Remain a support system throughout your cancer treatment
To reach our oncology and women's health nurse navigator directly, please call (850) 747-7730.
Cancer screenings we offer
As part of our dedication to the early detection of cancer, we offer breast and lung cancer screenings. You will find information about our cancer screening services below.
Breast cancer screening
Breast cancer screening is an essential aspect to a woman's overall healthcare. Gulf Coast Regional Medical Center offers accredited breast health services for the early detection of breast cancer.
Our breast imaging services include:
Breast magnetic resonance imaging (MRI)
Breast ultrasound
Mammography
Stereotactic breast biopsy
Lung cancer screening
To promote the early detection of lung cancer and to increase the chances for long-term survival, we introduced the area's first lung cancer screening program for high risk individuals.
The screening is performed via a low-dose computed tomography (CT) scan. This imaging test allows doctors to screen for lung nodules and is available at our imaging center.
Lung cancer risk assessment
The following is a lung cancer risk assessment. Apply a "true" or "false" response to each statement below to help you better understand your lung health:
You are 50 years old or older.
You are a smoker, or you have a smoking history of at least 20 pack years, or you have you been exposed to second-hand smoke for more than 10 years. (Pack years are the number of packs smoked per day times the number of years smoking.)
You have, to your knowledge, never been diagnosed with cancer.
You have, to your knowledge, no prior history of cancer (other than non-melanoma skin cancer) within the past five years.
If you responded "true" to all of the above statements, we recommend you call our oncology nurse navigator at (850) 747-7730.
About Sarah Cannon Cancer Institute
As part of Sarah Cannon, the Cancer Institute of HCA Healthcare, our hospital provides comprehensive cancer services with convenient access to cutting-edge therapies for people facing cancer in our communities. From diagnosis to treatment and survivorship care, our oncology expertise ensures you have access to locally trusted care with the support of a globally recognized network.
askSARAH helpline
Have cancer questions? We can help. askSARAH is a dedicated helpline for your cancer-related questions. Our specially trained nurses are available 24/7, and all calls are confidential. Contact askSARAH at (844) 482-4812 or chat online at askSARAH.
Oncology locations
Retrieving location data...