Women's breast care center in Panama City
Our breast imaging center in Panama City, Florida, offers comprehensive breast diagnostics. We are dedicated to finding breast cancer and other breast conditions early and providing patients with the highest quality of care.
For more information about our breast care services, please contact our women's health nurse navigator at (850) 747-7730.
At Gulf Coast Regional Medical Center, we provide women access to:
A multidisciplinary team approach to coordinate the best treatment options
Comprehensive care, including a full range of services
Information about ongoing clinical trials and new treatment options
Quality breast care close to home
Recognition
---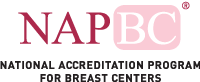 Gulf Coast Regional Medical Center is the first facility in Bay County designated as a Breast Imaging Center of Excellence by the American College of Radiology. This recognition is awarded to facilities that have achieved accreditation in all breast imaging modalities—mammography, breast ultrasound, breast MRI and stereotactic biopsy.
Additionally, we are accredited by the American College of Surgeons' National Accreditation Program for Breast Centers for our comprehensive breast care program.
Breast imaging services
As part of our Women's Services program, we offer an array of accredited breast health services, including:
3D digital mammography: A 3D mammogram uses low-energy X-rays and 3D imagery to scan the breasts for signs of breast cancer. Because of the 3D images, breast cancer can be detected easier and earlier, resulting in improved patient treatment outcomes.
Breast magnetic resonance imaging (MRI): This test uses magnetic resonance imaging (MRI), which uses a strong magnetic field and radio waves to create detailed images of organs and tissues inside the body. A breast MRI can detect cancers and abnormalities in the breasts.
Breast ultrasound: A breast ultrasound uses high sound waves to detect tumors or other breast abnormalities.
Stereotactic biopsy: This procedure uses a computer and imaging equipment to identify cancerous cells in the breasts.
To schedule an appointment for a breast exam, please call (850) 747-7775.
3D digital mammography
A 3D mammogram is much similar to having a conventional mammogram. Like a conventional mammogram, the technologist will position you, compress your breast and take images from different angles. However, 3D mammograms are proven to be more accurate than 2D mammograms.
The enhanced accuracy is due to the device capturing multiple images, or slices, of the breast from several angles, creating a multi-layered breast image. Your doctor is then able to review your breast, one thin layer at a time, almost like turning pages in a book, which helps them detect cancer sooner and make a more accurate diagnosis.
Additionally, compared to traditional, film mammograms, digital mammograms are easier for doctors to analyze, share and store because they can do so electronically.
Breast health locations
Retrieving location data...