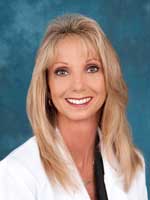 Kay Hankins, RN
For more than 20 years, Gulf Coast Regional Medical Center Women's Health Navigator Kay Hankins, RN has cared for the needs of her patients in a way that is characterized by her love for them and her understanding of their needs during their time of difficulty.
For oncology patients, Kay is a tremendous resource. After a diagnosis, and if it's determined further consultation with the UAB Comprehensive Cancer Center is appropriate, Kay will contact the UAB team to quickly start the process of making arrangements. By doing this, Kay removes a lot of the stress and anxiety many patients experience. For all of her patients, Kay helps them navigate the sometimes confusing health care path.
To contact Kay, call (850) 747-7730 or email Kay.