The Cancer Program of Gulf Coast Regional Medical Center is dedicated to helping patients accomplish one goal. Beat Cancer.
We are part of a cancer program that is accredited by the American College of Surgeons Commission on Cancer as a Community Hospital Comprehensive Cancer Program. Our program is growing, and we believe that is a result of three central components of how we deliver care. We invest in state-of-the-art technology. Our physicians are expert, experienced and dedicated. Our staff are caring, committed and driven to give patients all the support they need. The combination of these central components translates into help, hope and healing.
We help our patients beat cancer by providing them with advanced, quality, state-of-the-art care.
We do that through physicians and providers who are passionate about their patients and their work and use a comprehensive approach.
We do that with a commitment to community support of organizations devoted to patients with cancer. And we do that in a setting that is a source of support.
Cancer Care
---
American College of Radiology Accredited
The Cancer Program has been awarded a three year accreditation in radiation oncology by the American College of Radiology (ACR). ACR accrediation is a high honor for radiation oncology treatment facilities because it represents the highest level of quality and patient safety.
The ACR is the nation's oldest and most widely accepted radiation oncology accrediting body. With more than 600 accredited sites and 27 years of accreditation experience, ACR accreditation recognizes facilities that provide quality of care and patient safety. Accreditation is awarded to facilities meeting specific practice guidelines and technical standards developed by ACR after a peer-review evaluation by board-certified and expert radiation oncologists and medical physicists.
The organization assesses patient care and treatment, patient safety, personnel qualifications, adequacy of facility equipment, quality control procedures, and quality assurance programs. The findings are reported to the ACR Committee on Radiation Oncology Accreditation, which subsequently provides the practice with a comprehensive report it can use for continuous practice improvement.
Delivering high quality levels of cancer care truly requires a comprehensive, team approach. We have a multidisciplinary oncology team that includes physicians from many specialties, including: medical, radiation and surgical oncology, pathology, gynecologic oncology, pulmonology, urology, diagnostic imaging, and others.
Our team is dedicated to cancer prevention, early detection, timely diagnosis, optimal treatment, rehabilitation and support. Physicians are involved in clinical trials in affiliation with the Sarah Cannon Research Institute. Because of this, our patients have access to numerous clinical trials. Our cancer program is accredited by the American College of Surgeons Commission on Cancer as a comprehensive community cancer program.
Have questions?
Sarah Cannon Cancer Institute Gulf Coast Regional Medical Center is pleased to offer access to askSARAH — a dedicated helpline designed to help answer your cancer-related questions. Calls are confidential.
Contact askSARAH at (844) 482-4812 to connect directly to a nurse to help you.
Nurse navigators
Gulf Coast Regional Medical Center nurse navigators are patient educators and advocates, care coordinators, system navigators, and community ambassadors on a mission to improve the care experience for each patient.
Our Nurse Navigators are focused on patients with cardiovascular, oncology, women's health, and obesity-related health issues.
Our nurse navigators are a support system for the patient and his/her family at a critical time—after diagnosis and through treatment—and serve as a "gateway" to Gulf Coast Regional Medical Center services.
Navigate patients through the diagnostic evaluation
Educate and support each patient empowering them to make informed treatment decisions
Remain a support system throughout the patient's cancer treatment
Meet our nurse navigator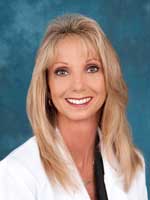 Kay Hankins, RN | Oncology & Women's Health
Kay works with the radiologists/women's imaging specialists, pathologists, surgeons, oncologists and Ob/Gyn physicians, and other specialists to meet new patients diagnosed with breast cancer and other women's health issues. To contact Kay, call (850) 747-7730.
Read more about Kay
Awards and recognition
The Gulf Coast Regional Medical Center team of oncologists, other specialists, and clinicians constantly strive to improve the quality and range of services we offer our patients. Voluntarily pursuing accreditation for different aspects of cancer care creates a sense of accountability for our team. The constant pursuit of excellence is done with one goal in mind—provide our patients the best opportunities for maintaining a high quality of life while they battle cancer. We are proud to be recognized for:
Recognition
---
American College of Surgeons Commission on Cancer, Nationally Accredited Breast Center(National Accreditation Program for Breast Centers)
Gulf Coast Medical Center's mammography program is accredited by the American College of Radiology.
Gulf Coast Medical Center is the only Bay County-area hospital to have earned the Jean Byers Award for Excellence in Cancer Registration.