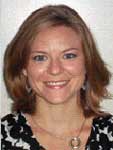 Jana Rolerson
Director
Details
# Beds: 34
Staffing Ratio: 4-6:1
Mission: To provide excellence in musculoskeletal care.
Common treatments/types of patients: A combined unit of Orthopedic, General Surgery, and Oncology patients. Orthopedics primarily consist of elective total hip replacements, total knee replacements, and spine surgeries. General surgeries include abdominal surgeries, thyroid surgeries, and urological procedures.
Special treatments: Femoral Nerve blocks, surgical drains, reinfusion systems, CPM machines, traction, PCA pumps, and Chemotherapy.
Special training for new RNs: Turning of total joints, wound re-infusion, mobilizing, post-op care, ortho complications. All new RNs receive a structured orientation based on individual needs.
Special recognitions or services: Center of Excellence for Spine.
What To Expect
A warm environment with staff eager to teach. Our unit allows for new hires to learn at their own pace. We are also a very fun unit.
My Management Style
MBWA (management by walking around), passionate about teaching with an emphasis on developing employee potential and growth.
Our Team
We provide quality care to our patients and their families by our experienced staff who work as a team. We focus on providing care that assists our patients to regain mobility and independence. 2 South is a fun unit. We all feel that there is "no business like bone business." We celebrate with our physicians, other departments, our patients and families and most importantly, with each other.
Choose 2 South and Gulf Coast Medical Center because we treat patients who are not only sore but also sick so we see quite a variety of things. This is a warm, friendly place and the people at Gulf Coast Medical Center want others to succeed. We all work well together as a team. Our Administration Team is also very friendly and accessible. We will help you to be successful and can offer areas of improvement and learning. This is a busy paced unit where you can really acquire time management skills and to learn about various Med/Surg conditions.
Nursing Students
We have the privilege of working with nursing students and they feel Ortho is a positive, helpful experience. They appreciate working with our helpful, supportive and friendly staff.
Bragging Rights
Our great team! We are a very close group, a wonderful team. We make others feel welcome and comfortable to ask questions. We work very well together and with other departments such as PACU and the ED as well as the Physicians to meet our patients' needs. We appreciate others and acknowledge our appreciation.
The Panama City Area
What we like about the Panama City area: The beach and warm weather. We have great winters! The pace here is more laid back in the area and in the hospital but our education and technology is state-of-the-art.