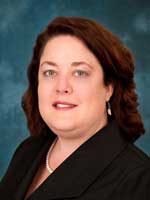 Robbin Catt
Director
Details
# Beds: 44
Staffing Ratio: Primary Service: 3-4:1 Core: 5-7:1
Our Mission: We are committed to preserving and improving the quality of health to our customers and to excel in meeting the holistic needs of our community.
Common treatments: We care for a variety of diagnoses ranging from Pneumonia, CHF, COPD, Chest Pain, Gastrointestinal complications, Wound Care, Diabetes, and Surgical care. We have a state of the art Mirror Telemetry monitoring system with the capacity to monitor 18 patients within our Unit. Our department utilizes state-of-the-art technologies such as Computerized Documentation, eMAR, and Accudose
Staffing: Our staffing team consists of a Charge Nurse, RNs, LPNs, and Patient Care Techs. A typical day shift consists of a team of 2 LPNs with 5-7 patients overseen by 2 RNs with 5-6. These four nurses have 2 Patient Care Techs to provide ADL to our customers. All the other RNs provide "primary services" caring for 3-4 patients.
Special recognition: Department of the Quarter (2010)
What To Expect
Flexible orientation program based on individual needs
Family-like atmosphere with a challenging, fast paced and rewarding environment
Satisfaction in learning and in knowing that everyday is different
Wide range of patient diagnoses and conditions, largest volume of ER and Direct admits within hospital
Excellent consistent quality patient care
Wide variety of consults and physician exposure
Great foundation of nursing skills for new graduates
My Management Style
Central to the success of my department is to follow a shared leadership approach. My employees have a voice and are tasked to set unit standards of patient care and customer service through our Unit Council.
Our Team
Our department works in a collaborative manner with a variety of departments including the hospitalist, case managers, respiratory therapists, dieticians, and physical therapists. We also like to have fun: we celebrate birthdays, holidays, and have celebrations on the unit during holidays for working staff. The key to the success of any department is Teamwork.The nursing staff on 3N has embraced this concept.