Here at Gulf Coast Regional Medical Center, we partner with The DAISY Award to reward and celebrate the extraordinary, compassionate and skillful care given by nurses every day. Please consider submitting a nomination for an GCRMC nurse who displayed these qualities while caring for you or your loved one.
Demonstrates a commitment to healing the physical, emotional, and spiritual needs of patients and their loved ones.
Shows a positive, caring and professional attitude, each and every day.
Displays a passionate energy for improving patient care.
Exemplifies GCRMC values.
When an GCRMC nurse is honored with a DAISY Award, we celebrate this recognition publically with a ceremony, a DAISY Award badge pin, and a beautiful hand-carved stone sculpture.
About The DAISY Foundation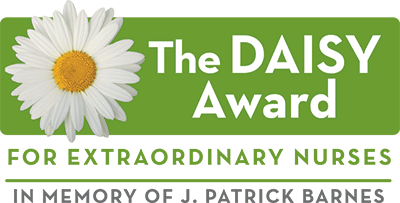 The DAISY Foundation was established in 1999 by the family of J. Patrick Barnes who died of complications of the auto-immune disease Idiopathic Thrombocytopenia Purpura (ITP) at the age of 33. (DAISY is an acronym for diseases attacking the immune system.) During Pat's 8 week hospitalization, his family was awestruck by the care and compassion his nurses provided not only to Pat but to everyone in his family. So one of the goals they set in creating a Foundation in Pat's memory was to recognize extraordinary nurses everywhere who make an enormous difference in the lives of so many people by the super-human work they do every day.
2018 Winners
Vanessa Miller, RN
Victoria Taylor, RN
2017 Winners
Spring Gates, RN
Larrian Bedini, RN
Heather Tovey, RN
Rebecca Williams, RN
Krisitin Bivins, RN
Nominate a Nurse
The form was successfully sent.
There was an error with the form submission.